Bienvenue!
Here you will find details for my online tutorials, art workshops and sketching holidays in the UK and France. These are for anyone who wants to learn, develop or improve their drawing, painting and observational skills.  Informal and delivered with plenty of humour, these workshops invite you to face your fear of imperfection, embrace the unknown, experiment with different techniques and materials, connect with a new community and find your own unique artistic style.
I love teaching, helping and inspiring people to live more creative lives.  As well as a web designer and exhibiting artist I am also a passionate sketcher, so you'll also see below how to join the growing Urban Sketchers Languedoc chapter in the south of France.
I look forward to meeting you!
Recent sketches, projects & demos
Online Workshops
Sold
Sold
Sold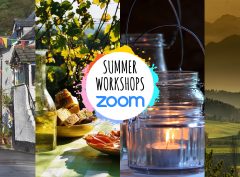 Sketchbook Notes
During this pandemic one of the things I have missed a great deal is sketching with friends. It's not just fun to spend time with like-minded people but it's inspiring too. Sharing time talking about our 'watercolour woes' and 'drawing … Read More
A huge thank you for your painting! It looks amazing. We now have plenty of places to hang it, so it's a great gift!!
I really enjoyed the workshop with Annette! She's so friendly and she knows how make you feel confident 
🙂 (even if you never sketched before…)
It was a lovely day!! I look forward to the next one!
Thank You Annette!!
Thank you for a great class today, despite the weather! We are looking forward to practicing our sketching.
Thank you for stretching us, Annette. A completely new style (Faux Stained Glass) for me. What a wonderful day.
I thoroughly recommend Annette's informal courses. Great for beginners like me. I took art at school but that's where it stopped. Thanks for the encouragement Annette